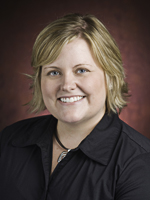 Dr. Jennifer A. Theiss
Professor & Ph.D. Director
Department of Communication
School of Communication & Information
4 Huntington St.
New Brunswick, NJ 08901
Twitter: @drjentheiss
Dr. Jennifer A. Theiss (Ph.D. University of Wisconsin, 2005) is an associate professor and Chancellor's Scholar in the Department of Communication at Rutgers University. Her research focuses on the dynamics of interpersonal communication in the context of romantic relationships, marriages, and families. Specifically, she is interested in the ways that certain qualities of relationships shape communication between partners and, in turn, how interpersonal communication influences the development of close personal relationships. She has been working with colleagues to develop the Relational Turbulence Theory, which explains why relationships are marked by more extreme emotions, cognitions, and communication behaviors during transitional periods in the relationship trajectory. The RTT argues that transitions are marked by heightened uncertainty about the relationship and increased interference from partners in daily goals. These heightened relationship characteristics make people more reactive to their everyday circumstances. Dr. Theiss' previous research has employed longitudinal and dyadic data analytic techniques to examine the impact that relational uncertainty and partner interference have on a variety of relational outcomes, such as jealousy, irritations, conflict, hurt, and communication. She has applied the RTT to such contexts as the transition to parenthood, the transition from deployment to reintegration for military couples, the transition to the empty-nest phase of marriage, and the COVID-19 pandemic.
Dr. Theiss' other program of research focuses on the role of interpersonal communication in negotiating sexual intimacy between partners. She has applied the relational turbulence model to understand the relationship dynamics that compromise sexual communication and the consequences that arise when couples fail to communicate about their sexual relationship.
The second edition of Interpersonal Communication: Putting Theory Into Practice is now available through Routledge Press. For more information, click on the teaching tab on this webpage, or visit the publisher's website here.
Dr. Theiss' book, The Experience and Expression of Uncertainty in Close Relationships, explicates and examines the experience of relational uncertainty. For more information, visit Cambridge University Press here.
Dr. Theiss co-edited the volume Contemporary Studies on Relationships, Health, and Wellness with Dr. Kathryn Greene. The book highlights research on a variety of interpersonal and relational processes in health contexts. For more information, visit Cambridge University Press here.